Learn About Tree Monkeys Tree Service

Serving Central and Western Pennsylvania
Tree Monkeys Tree Service Covers Indiana County and Beyond
Learn about Tree Monkeys Tree Service in Indiana, PA, and neighboring communities. The hard-working professionals of Tree Monkeys Tree Service, owned by Kathy Lingenfelter, know Indiana County very well. Many of our workers grew up in the area, live here, and raise families here. We even sponsor a Little League team. If you want the best tree work in PA, do not hesitate to contact us online or call us at (724) 465-4083. If you are in need of emergency services, call us at (724) 465-4083.
Some of the areas we serve include:
Blairsville
Homer City
Clymer
Armagh
Saltsburg
Commodore
Marion Center
Word Has Spread Quickly Throughout PA About Our Top-Notch Work
Tree Monkeys Tree Service's reputation for quality work at affordable prices has spread since the business began over eight years ago. The Indiana Gazette has featured photos of our work over the years on the front page of the newspaper. Customers have let us know that they love our quality tree trimming, pruning, removal, land clearing, and emergency services. Those satisfied customers have told their neighbors, relatives, and friends. We are accredited with Better Business Bureau and have a top rating on Angie's List.
Tree Monkeys Tree Service Arborists Are Highly Dedicated and Passionate
Our arborists are educated in arboriculture – the art and science of planting, caring for and maintaining trees. At Tree Monkeys Tree Service, our arborists are dedicated, passionate, and professional tree care consultants. We receive continuous education, instruction and certification in the latest arborist techniques and equipment. We even provide storm clean-up. Rest assured that we can diagnose any tree problems.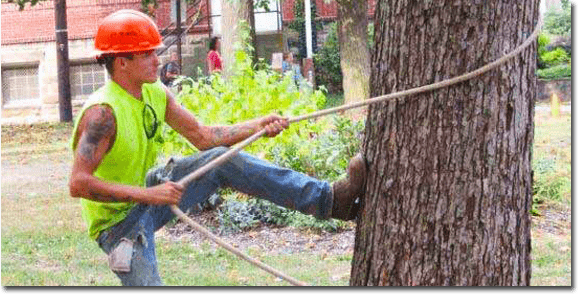 Customers Love Our Affordable Prices and Fine Workmanship
Our customers love the work that we do, our quick response to a site, and the short time it takes to do the job. They also highly recommend Tree Monkeys Tree Service for our competitive pricing. We do not charge an arm and a leg like the other guys do. Our goal is to retain you as a customer who will call us when you need tree care.
Want the best tree care around? Learn about Tree Monkeys Tree Service.